Google Adwords can now automatically double your daily budget.
From October 4th 2017, Google began allowing Overdelivery on Adwords Campaigns. Overdelivery authorises your ads to receive up to twice as many clicks as you've specified in your daily budget on days when traffic is higher than usual.
The Overdelivery initiative acknowledges that internet activity is inconsistent, at times unpredictable and subject to human behaviour, trends and real-life events. This update is purposed to facilitate engagement with your paid ads when opportunity is high. It's a movement towards smarter Adwords capabilities, moving away from consistent spending where it may not be appropriate.
The update goes both ways as well, in times of reduced traffic, your campaigns will not be shown as regularly – saving your money during this period.
Users Won't Be Overcharged – In Most Cases
While many may be concerned about having to deal with the possibility of overusing a budget in a short period of time, Google has reassured users that they still will not be charged any more than their daily budget has allowed in a 30.4 day period. They have also stated that in an instance where they do end up exceeding your budget, you will be provided with credit to cover the costs.
Users are able to check if their ads have been impacted by Overdelivery in the Reports section of Adwords.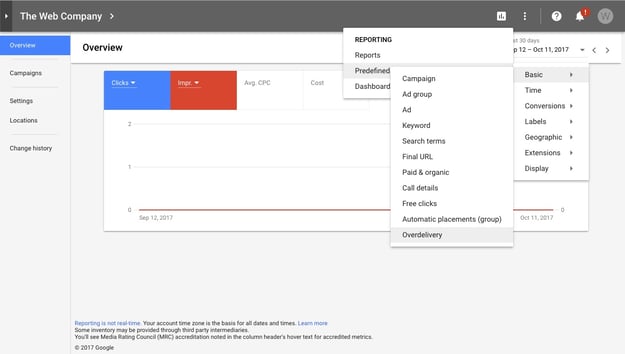 Adwords have always been able to vary your daily spending, just to a lesser extent. In the past, to accommodate for fluctuations in traffic, your campaign may have changed by up to 20%. As with the current update, these changes all remained within the limits set by the estimated monthly spend from your daily budget.
What to Watch Out For
If your monthly budget remains the same throughout the 30.4 day period, there's nothing to worry about. You will not overspend on your campaigns. But, in the instance that a user changes their daily budget during this period, the monthly estimate is reset.
Changes in a budget can result in large overspends for particular periods. If you are frequently changing your daily budget for short-term campaigns or while experimenting with results, you may need to be careful with the charges that could possibly incur from the new update.
Smarter Campaigns, Optimised Results
Accommodating for larger influxes in traffic can be hugely helpful for many campaigns. The ability to have this automated by an Adwords feature provides the opportunity for advertisers to benefit from optimised campaigns without any additional effort. It makes sense for Google to move towards automated display for the benefit of advertisers and search engine users alike. Staying educated about the changes will help keep to your expectations for your campaign and avoid errors.
If you'd like to find out more about Google Adwords updates, you can read more about the changes here.
The Web Company provides expert Adwords management to help you reach your advertising goals. Get in contact with us today for a free consultation on the services we're able to provide, to take your online marketing further.